A guest blog by Melusine Draco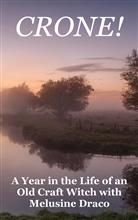 As most of my readers will know, I have a fascination for odd and obscure historical facts that are hidden away in the millions of sources that outstrip and confound the confines of the Internet – it's finding them that presents the stimulation and the challenge. If we merely rely on the regurgitated information of contemporary paganism not only does our mind become stagnant, but for those who follow the Craft of the witch, so do our magical abilities.
Over the years I have also incorporated a great deal of folk- cunning- and country-lore into my books on witchcraft with a view to preserving that knowledge for future generations. Much of what even my grandparents' generation once knew is now lost because it was never recorded for posterity. True there are numerous pagan books written about similar subjects but it is obvious that a large number of them don't have the countryside in their blood and fail to reflect the magic and mystery of growing up in an uncomplicated rural environment. Strangely enough, these sentiments are often now viewed as some form of elitism but I prefer to go back to the roots of learning rather than consult something that has been cobbled together from different popular titles without any true grounding in Nature.
Both The Secret People and CRONE! are autobiographical and were a lot of fun to write.  CRONE! takes 'a year in the life of …' approach and is a rag-bag of memories, wise counsel, reflections, magic and nostalgia that make up a witch's year – especially one who's just stepped down as leader of a Coven and finds herself with a lot of time on her hands. Magically this is the best of times since there is nothing to prevent the Crone from doing what she likes, when, where and how – since her personal power is now greatly magnified. CRONE! might also provide food for thought for those Craft ladies of a certain age who need to step aside and let the next generation have their turn, because often we don't stop to think that the magical power of the group can diminish and stagnate through the lack of fresh energy. Hopefully, as far as the new Magister and Dame are concerned, I will be around for a long time to come, remaining in the background dispensing Knowledge, Wisdom and Understanding so that they in turn can train their own successors for the future, while I return to my own chosen Path. In truth there's comes a time in life in Crafter's life when it becomes necessary to follow a different Path and see where it takes us. We leave the security of the Coven and set off on a solitary journey … but as Aleister Crowley observed: "What an adventure!"
On reflection life is good and it's not everyone who can live the witch's dream of retiring to a small, isolated cottage in a river valley in the shadow of a wild mountain range. Since I'm country born and bred, it's more like returning to my roots but life's rich tapestry has certainly had its fair share of snags, runs, holes and endless thread-pulling along the way. I've lived in the Glen for ten years now and although my original pack of greyhound companions has been reduced drastically through old-age, I'm still pack-leader of five … not forgetting Harvey my intrepid little mongrel!
The Glen is ideally suited to the type of magic we teach in Coven of the Scales simply because we are not over-looked – psychically or magically – and nothing is allowed to interfere with the daily routine of interacting with Nature on a full-time basis. The cottage is on the opposite side of the Glen to the mountains, on the wooded Slievenamuck Ridge with a lush valley and the River Aherlow running between. The view of the mountains is never the same two days running and at certain times of the afternoon, the slopes are bathed in a strange, ethereal light that is nothing short of enchanting. Each morning I can stand at the bedroom window and stare out with the feeling that this is an ever-lasting holiday – and one I often share with members of the Coven.
From a magical energy perspective, the mountains were formed during the 'Caledonian Foldings', which caused the underlying Silurian rocks to fold into great ridges. The Silurian rocks were quite soft and quickly eroded; the eroded dust compacted over millions of years to form Old Red Sandstone, a tough enduring rock and so the Galtees are of Red Sandstone, but with a softer Silurian rock core. If anyone is familiar with my Magic Crystals, Sacred Stones, they will understand how important these geological features are to our magical teaching.
As a result of being surrounded by all this beauty, I've now gone into Crone-mode, which in magical parlance means that I can do and say what I want, when I want, and no one can object, since they must sit at my feet and drink in the pearls of wisdom I dispense with every breath … even if they are the senile, verbal wanderings of an aging crank. Seriously, the Coven has been told that if I do get to that stage 'Do not revive!' must be entered on the medical chart! Today, I am blessed with a crowd of wonderful people in the Coven from all over the world; all of whom are bright, intelligent and talented – not a witchy outfit to be seen amongst them with Craft 'mark' tastefully concealed – and all dear friends.
In truth, we as practitioners of Old Craft are less concerned with ritual and dogma, and more focused on natural energy-raising techniques, which we use to channel or direct spells and charms according to the nature of the working. As I've often said, Old Craft witches do not worship Nature but we are certainly proficient at working in harmony with it … and are highly spiritual beings on this level, too. Unlike the majority of modern pagans, however, we accept Nature as being red in tooth and claw and do not seek to impose our will on the natural scheme of things – even if Beltaine is delayed because the hawthorn comes into bloom a month late! And you can't have a true Beltaine celebration without the fragrance of May blossom in the air … if you understand my meaning.
We also accept the timeless concept of the hunter and the hunted, and the essential inter-action of male-female energy. Old Craft is not generally seen as gender specific but its beliefs do tend to lean towards the male aspect since the female aspect remains veiled and a mystery – as she should be since this is the ancient and fundamental 'Truth' behind the Mysteries. Coven of the Scales is not a true sabbatical tradition but it remains an initiatory Mystery one, and what it does share with the other pre-Wiccan traditions is a common feature of extreme selectivity when it comes to prospective members – and the willingness to reject those proven unfit for the Path. Needless to say, this unpopular and confrontational stance has often led to thorny relations between other so-called 'traditional' groups, but it has encouraged a sanctuary-like environment where creative magical collaboration can unfold according to the design of each individual member of the Coven.
All this 'tradition' has now funnelled down to a tiny, remote cottage in the Glen that offers members of the Coven a warm welcome, a magical learning centre and a spiritual home, hopefully, for many years to come. We have our own Neolithic site where we interact with the Ancestors and, unlike many other ancient monuments, these ancestral energies have not been polluted by the unwelcome tramp of tourism. Here I can live the life of an Old Craft Initiate according to the tenets of my belief and periodically welcome friends and fellow travellers to share in my magical world.
CRONE!: A Year in the Life of an Old Craft Witch
Melusine Draco
ISBN: 9781788760010
Type: Paperback
Pages: 216
Status: Published by https://www.feedaread.com/books/CRONE-9781788760010.aspx
As I've said before, and no doubt I'll say it again, writing about witchcraft is easy.  Finding the right theme isn't.  Any fool can pass themselves off as a witch but finding an informative and entertaining approach for a new book is a whole different cauldron of knowledge.  Personally, I feel there should be a magical purpose behind any book on Craft – otherwise it's all been said before – and usually better …