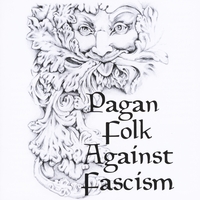 I remember when Pagan Folk against Fascism first came out back in 2010 – there was a lot of folk against fascism work going on at the time as right wing groups tried to infiltrate the folk scene in the UK and claim it as their own.  Things are, frankly, a lot worse now than they were then, although the folk scene doesn't seem to be so much of a target these days, Paganism most certainly is.
With spoken word and donated songs, the compilation CD aims to raise awareness of the far right's attempts to utilise the UK Pagan environment to spread hate.
Profits will go to organisations fighting the rise of the far and hard right.
The project was funded in part by organisations within the wider Pagan community, a "seeding loan", and by Mad Magdalen. Cerri Lee donated the (much used) logo and Damh the Bard made the final mix down.
Tracks are
Gordon MacLellan – Hills
Druidicca – Homer & the Giant
Sunshine Paul – It's a Matter of Time
Liv Torc – Shades of Green
Kate & Corwen – Sweet England
Mike O'Connor -Singing in the May
The Dolmen – Willow~Fae
Devil's Elbow – Cambric Shirt
Damh the Bard – Merlin am I (live)
Mad Magdalen- Alison Cross
Anharmonic – No One Said it Would be Easy
Jim Faupel – Wicker Man
Talis Kimberley- 1400 Hours
Paul Mitchell – Clarion Call
Gordon MacLellan – Kelpie
Mad Magdalen-Wassail
To get a copy, email ragingpagan@hotmail.com
Or go here – https://store.cdbaby.com/cd/paganfolk