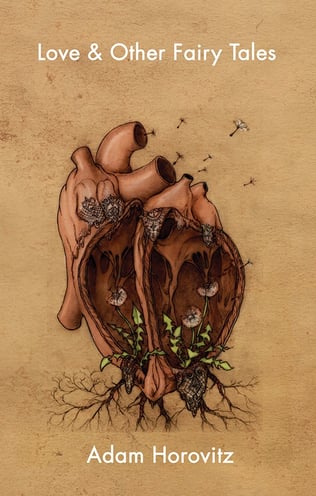 This isn't an objective review – poet Adam Horovitz is someone I am blessed to count as a friend, and I live with the cover artist!
This is a lovely collection of poems. You should definitely get a copy.
I've spent days trying to work out how to write a review without saying anything too obvious or tedious about this new collection while getting across something meaningful about why I like Adam's poetry so much. So here we go.
Adam is like the sea.
Stay with me, this works. The sea takes whatever it encounters, and polishes it until the ordinary becomes extraordinary. Adam is much the same. His poems are often about scenes and experiences that are likely to be familiar. He also favours the everyday language – he isn't one of those poets where you have to go in armed with a thesaurus, willing to try and decode the poem as though it was some kind of cryptic crossword. Which is as well because mostly I hate that sort of writing. 
You don't have to have read a lot of poetry to make sense of Adam's work. There are no rules or references that you need to have a handle on. Some of the pieces do allude to other work, and while it's nice when you know what's going on there, it's also totally workable when you don't. I knew some of the pieces he mentions and not others, and it was fine.
In these poems, simple and everyday language turns into something enchanted. It's about the pacing, the placing of words in relationship to each other, the soundscapes thus created, and the way a pairing of words can birth a sense of meaning that feels magical and unfamiliar even when those words are wholly mundane. The ordinary becomes remarkable.
It's like the way the sea takes ugly broken pieces of glass, and turns them into colourful, smooth delight.
More on the publisher's website – https://www.indigodreams.co.uk/adam-horovitz