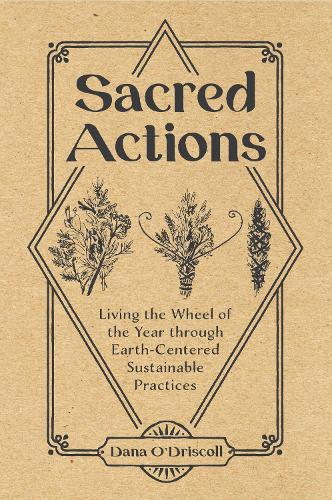 Dana O'Driscoll's Sacred Actions is a rare example of a book I think everyone should read. It's written for Pagans and Druids, but I think there are lot of people who simply care about the natural world who would also benefit greatly from this book.
This is a book about how to embed not just sustainable practices in your spiritual and daily life, but also how to be restorative. It's not enough to be sustainable. The idea of being regenerative is exciting, and the book as a whole has a hopeful, encouraging tone and is a good antidote to despair and distress.
You could take this as a manual for a year long project, or you could just read it all and pick the bits that work for you – there's plenty of inspiration and flexibility here. Author Dana is a longstanding Druid, with a wide range of life experiences. The result is a beautifully written book that is pragmatic, realistic and recognises the breadth and limitations you might be facing. It is as applicable for urban Pagans in small spaces as it is for those who can run off and start an organic homestead, and all places in between. There's attention to issues of wealth and privilege, and this is an excellent piece of writing for not excluding anyone or assuming much about available resources.
The book follows the wheel of the year, and the 8 festivals familiar to most modern Pagans. You could draw on this material to enrich your own seasonal celebrations, there would be no difficulty setting it alongside a different set of celebrations, either. If celebrating the festivals isn't part of how you do your Paganism, that will also be fine, you can make this entirely about action without any need for ritual.
Each festival explores an area of thinking and action and looks at how to bring this into your daily life, and spiritual life. It's a book that is very much about embedding the spiritual in the everyday, and increasing earth awareness and feelings of interconnectedness.
If you've been a deliberate eco-Pagan for some time, you might find some of the content familiar. However, this is a book with so many ideas in it, that the odds are good of finding new things to bring into your life. There are original rituals and triads here, and content for contemplation and meditation that will enrich any Druidic practice. I really like the emphasis on meditation as an action, and using meditation to embed ideas, reflect on relationships and deepen understanding. These are the most valuable meditation pointers I've seen in a very long time.
The author writes from her own experience, which means that the book has most to offer a Pagan in similar circumstances – someone living in North America. If that's not your situation, there is still a great deal to gain from this book, you're just going to have to do extra work to find out about relevant plants and groups where you live, for example. As a UK dwelling reader I enjoyed the decision to make the content specific – in many ways, specific details provide a better map for those of us outside the area of interest, than vague content that doesn't really give anything precise to anyone.
If you need inspiring and uplifting right now, this book is for you. If you need help finding out how to live a life that is regenerative, and more than sustainable, this book is for you. If you are even slightly interested in earth based spirituality, this book is for you. I cannot recommend it enough. It's made me realise a lot about what is most important to me in terms of Druidry – connection, care, community, responsibility, action, living our values, and uplifting each other so that we can all do better.
More about the book here – Waterstones