This week I finished colouring volume 3 of Hopeless Maine. It's the second graphic novel I've coloured, and the first time on my own project. For those of you less familiar with the mechanics of comics making – this is normal. Making a comic involves writing a script, drawing it, colouring, inking (or over-lining in our case) and lettering the pages. These can all be done by different people, and in the more famous comics there is more of a production line approach to creation.
I started working on pages back when Tom did a project called The Raven's Child. I took on some of the shading work to try and get him some breaks and time off. It's not unusual in the comics industry for people to work ten and twelve hour days, and seven day weeks, and for a while we did that. We've since decided that the artist-killing industry model is not for us and that we'd like to spend the rest of our lives with functioning spines.
The first graphic novel I coloured was mediaeval set and a take on King Arthur. Bold mediaeval colours were called for, and anyone used to Tom's work will know that he's not really that into bold colours. So, I offered to do it. I worked in oil pastel because it's my medium of preference. Good for the strong colours. An arse for scanning and impossible to pencil over.
Here's an admittedly less colourful piece from that project…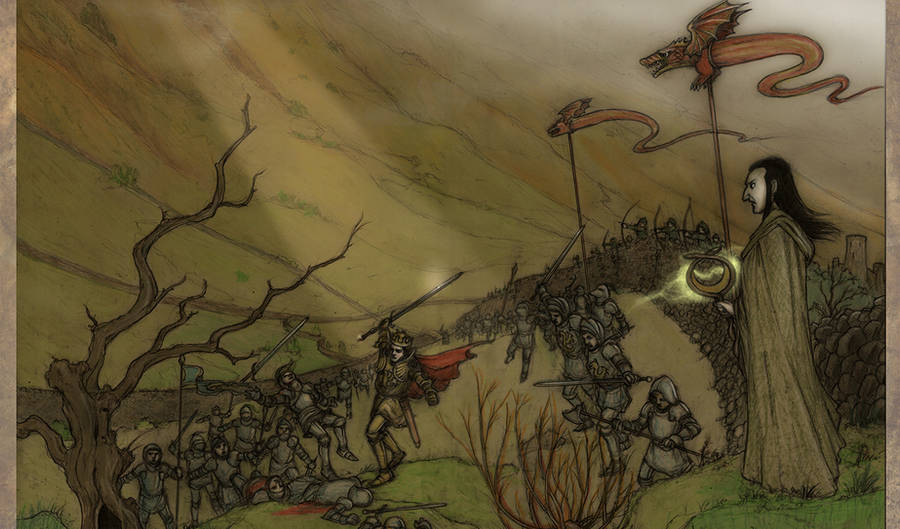 For Hopeless Maine, we don't want serious colour intensity, and we do have a lot of delicacy, so I moved over to pencils. Easier to scan, easy to pencil over, but not, I confess, quite as much fun. I had to figure out a whole new set of approaches for seas and landscapes – previously dealt with by smooshing the oils around. Unable to smoosh, I have to spend a lot more time physically getting the colour onto the pages (A3 for a standard comics page, if you were wondering!) It's taken a toll on my hands, so music and crafting and been much less of an option for me over the last six months. I'm looking forward to a rebalance.
I've enjoyed being more involved in the process – by the time previous comics have come out, my involvement as the writer has felt distant. It's been more fun being in on the whole thing. We're evolving ways of working together and I like that process. What we do together is a long way from what we would do separately, and that's rather cool.
Here's a chapter cover from the next Hopeless Maine volume…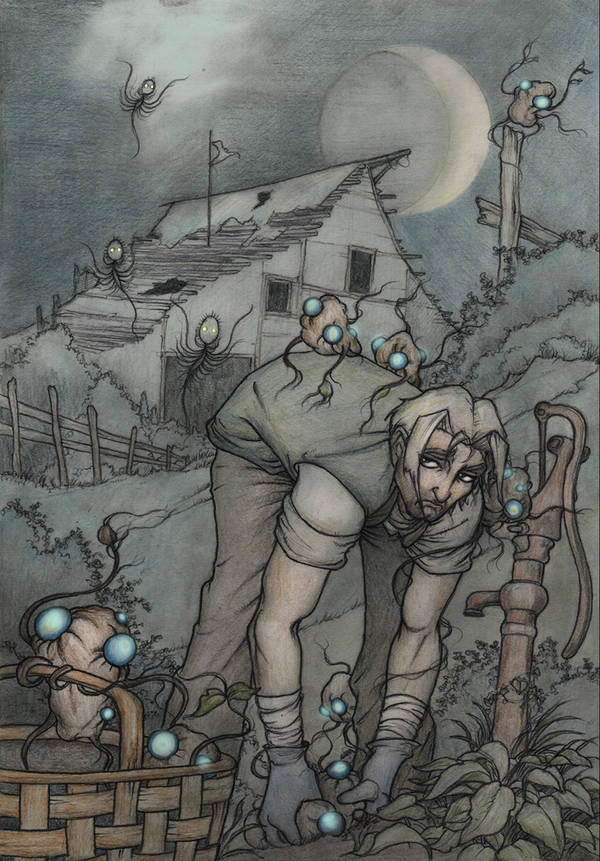 My crowning achievement for this book has been to learn how to do glows. Candle glows and eye glows, are very much part of Tom's look, and were something he did when the scanned, hand drawn pages went into photoshop. I have found ways of getting something plausible onto the page, and this cheers me greatly. It was something I didn't even attempt in the previous comic.
There's finishing up to do, but the next volume of Hopeless Maine will be entirely uploaded to the publisher over the next few weeks. Copies are already on pre-order and we're expecting it to be released in the summer. And before then, on to the next one, with an eye to a gentler pace, and me being able to do comics alongside crafting and playing music, without hurting my hands too much.