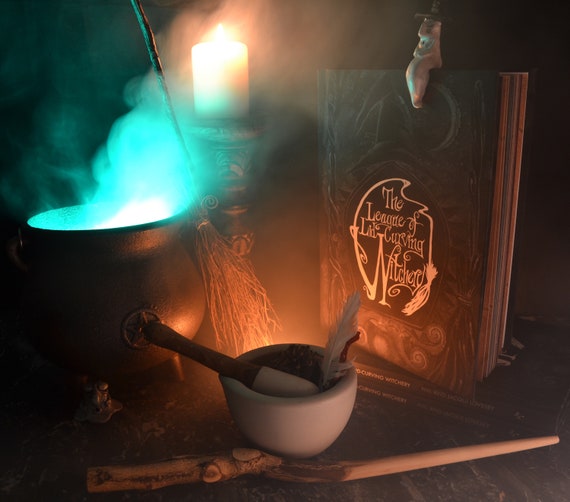 This is a new book from Phil and Jacqui Lovesey, whose Matlock the Hare books I have reviewed before on this blog. Set in the magickal dales, this volume focuses on the history of the league of lid curving witchery – the witches who inhabit this strange and lovely landscape. While the first three Matlock the Hare books were illustrated prose, things clearly took a bit of a turn with the previous title – Upon a Tzorkly Moon – which was hard cover and densely illustrated in colour.  The new one is more in this style.
Here we have stories and illustrations, and a physically very beautiful book. It's imaginative, and engaging. I've been pondering this for a while and I think the best way to describe it is to say that this is a children's book that has been written for adults. Maybe that makes it an inner children's book. It's pretty dark in places – violence against those perceived to be outsiders is a reoccurring theme, and as these are witches, boiling other creatures in your cauldron is a popular choice. It's probably not suitable for most children (if in doubt, buy it and read it first).
The underlying theme of the story is about how we square up to our differences and rise above them. Tzorkly (it's a parlawitch word in case you were wondering) means 'to rise above' and this book is absolutely an invitation to do just that. It delivers the message without being smug or preachy.
One of the things I find especially interesting about the Lovesy's work is how they handle death. This is an animist reality, everything and anything can have feelings and a voice. Everything creaturey eats. Sometimes what is eaten, protests. Everything will die eventually, and the deaths of main characters are very much part of the stories. This book focuses on three witches, and all of them die, and that's absolutely fine. It doesn't even feel like a spoiler mentioning this, because it's about life. They live, and therefore they die. The human desire to extend life for as long as possible, is not helping our species or our planet. We need different stories about what death is and how it fits into our lives, and this book is just that sort of thing.
As a household, we've had terrible trouble with the title for some reason. Tom first misnamed it as the league of wood carving lechery, we've also had witch carving lechery, and last night I inadvertently called it the league of witch curving and then had no idea what the last word could be. We're a bit splurked, and we haven't the oidiest extrapluff as to why.
Find out more about Phil and Jacqui's work here – https://www.matlockthehare.com/
See inside the book here – https://www.etsy.com/uk/listing/584650624/a-book-the-league-of-lid-curving